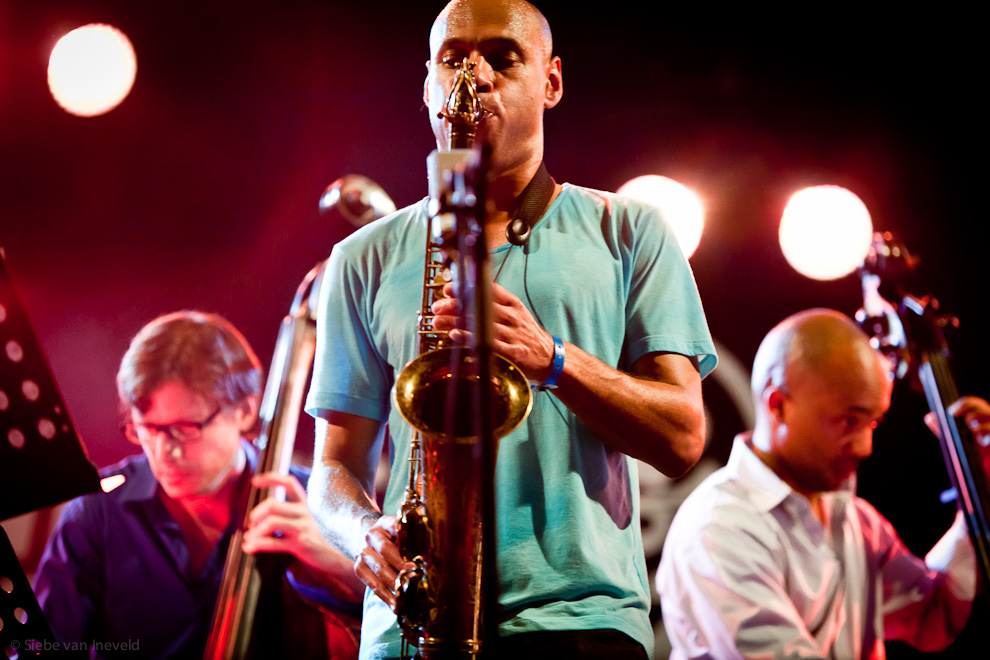 Joshua Redman Double Trio with Matt Penman and Reuben Rogers
Joshua Redman Double Trio with Matt Penman and Reuben Rogers. This was a very special concert. Two trio's combined. Matt Penman (Double Bass) and Bill Stewart (Drums) on the left side of the stage and on the right side Reuben Rogers (Double Bass) and Gregory Hutchinson (Drums).
During one song Joshua invited a special guest to join: Chris Potter. This was a great session which I will remember for a very long time.

Venue: Hudson, North Sea Jazz 2010, Rotterdam, The Netherlands.
Photo taken for Dutch Jazz blog: http://www.draaiomjeoren.nl/
10 Jul
This entry was written by Siebe van Ineveld, posted on 10/07/2010 at 01:42, filed under Jazz, Photography and tagged Bassist, Concert, Double Bass, Draaiomjeoren, Jazz, Joshua Redman, Joshua Redman Double Trio, Live, Matt Penman, Music, North Sea Jazz, North Sea Jazz 2010, Reuben Rogers, Rotterdam, Saxophone, Saxophonist, Stage Photography, Tenor Saxophone, The Netherlands.
Bookmark the permalink.
Follow any comments here with the RSS feed for this post.
Post a comment or leave a trackback: Trackback URL.

« Previous Photo
(Closeup of Joshua Redman, Joshua Redman Double Trio, North Sea Jazz 2010)